Rennen Infinity Bolts are the latest product developed out of the Rennen headquarters. Rennen took one of the simplest components on a BMX bicycle "The Chainring Bolt" and Rennen made it better.
Rennen has done it again with the Infinity Bolt. A simple but very effective shoulder just under the head of the bolt serves to distribute the load and make this the strongest Titanium 6AL-4V Chainring bolt on the market.
Chain Ring Bolt Lenghts
Regular: 6.2mm
Chain Ring Nut Lenghts
Regular: 6.2mm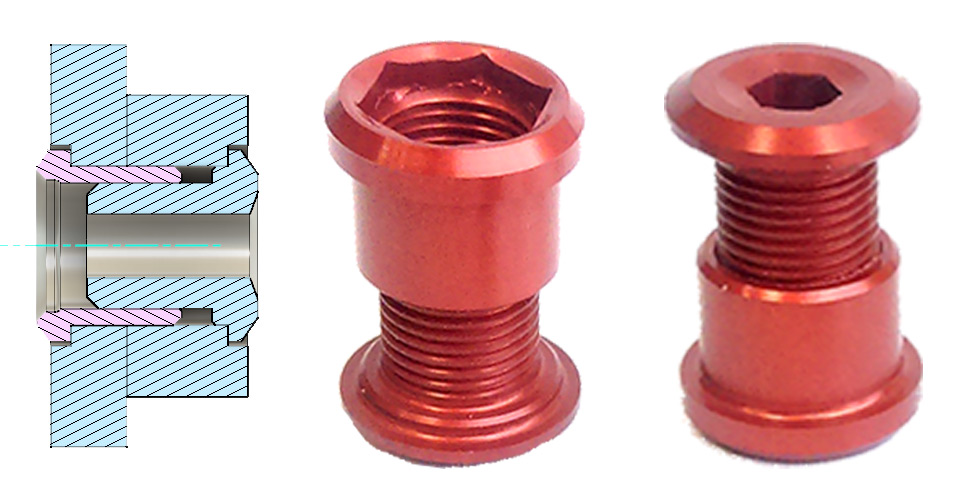 While all other bolts on the market use a 5mm internal hex Rennen chose 4mm to provide more material and increasing their strength further by 8.5%
At Rennen they like improving things that are not obvious and they believe that has been achieved with the Infinity Chainring Bolt.
Rennen are so confident in this design that they offer a lifetime warranty against breakage. That's right break a bolt and get a new one.
For something as simple as a chainring bolt they ran this design through 97 CAD iterations, 22 CNC G-Code variations and numerous FEA simulations.
Rennen purchases USA made 6AL-4V Titanium and produce these on a state of the art multiaxis CNC lathe in house. They do things this way because they have full control over the designs and production, and the alternative of ordering parts out of a catalog is unoriginal and boring.
Rennen stands by their designs and products, the quality shows.
Chainring Bolts use a 4mm/8mm allen wrenches for assembly.
Regular length has been optimized to work with most gear crank combinations.
XL is specifically designed for thick crank spiders like Answer Accelerator cranks. XXL is made for RaceFace SixC Carbon cranks.
Titanium Bolts come with 1oz of Finishline Ti-Prep anti seize packet.
Bolts are sold in individual packs for front and rear.